My slow cooker's been workin' like a pack mule this week. I've been recreating some old favorite recipes and trying new ones. Today, I'm kicking off my first post in a planned series of excellent crock pot meals.
This first one is our family favorite. It originated from a slow cooker recipe my former neighbor Kristi gave me years ago. Over time it's evolved into my very favorite way to eat Italian sausage! I hope you love it too!
Sweet Italian Sausage in the Slow Cooker
1 package Johnsonville Sweet Italian Sausage (see photo below)
1 T. Olive oil
1/4 tsp. black pepper
1 15oz can diced tomato (do not drain)
1 can Tomato Soup
1 Knorr Chicken Bouillon extra large cube (see photo below)
1/2 tsp. Italian seasoning
1 whole onion, chopped (I like to use a sweet onion, such as vidalia)
1 whole red pepper, chopped
1 garlic clove, minced
Shredded Mozzarella cheese
Box Barilla Plus Penne Pasta
Brown sausage in olive oil in a skillet. In slow cooker combine black pepper, diced tomatoes, tomato soup, chicken bouillon cube, Italian seasoning, chopped onion, chopped red pepper and minced garlic. Place browned sausage on top and cook on low for 6 hours. Serve over Barilla Plus Penne Pasta (cooked per the instructions on the box) that has been sprinkled with mozzarella cheese.
I use Johnsonville's Sweet Italian Sausage.
I love the taste of sweet basil in the sausage but if you can't find it, mild or hot Italian sausage will work in this dish just fine.
I use Knorr Chicken Bouillon extra large cubes, but Knorr Beef Bouillon cubes taste great in this recipe too.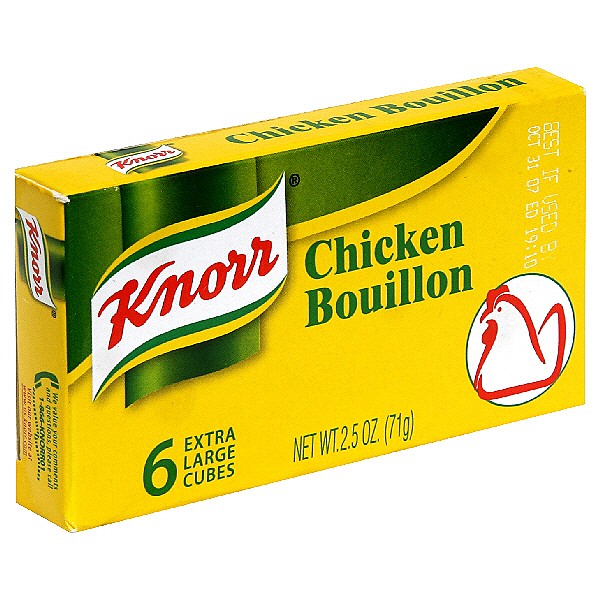 Cook Barilla Plus Multi-Grain Penne pasta per the instruction on the box.
Place a scoop of pasta in a bowl or plate.
Sprinkle with shredded Mozzarella cheese.
Scoop hot sausage and sauce over noodles and cheese.
Enjoy!